What is Cashcow
Cashow is a independently brand which contains  Cashcow pos machine and Cashcow software.
Cashcow pos machines are all desgined independently, have elegant design and powerful functions, running based android system.
Cashcow software is also developed independently, based on android system, provide solutions for major industires, like supermarket, restaurant, retail shop, fruit shop and clothing, etc.
Company
Cashcow is a brand built by Hangzhou Sabao Company on 2013.
Cashcow hardware sales volumn rank No.2 in China online market.
We have strong design abilities, which has been  proved by 3 Germany Reddot awards.
By 2020, we have  10+ Pos software IP , 10+ Hardware Design and Inventions, 2+ PCBA IP IP-Intelligence Properties.
Team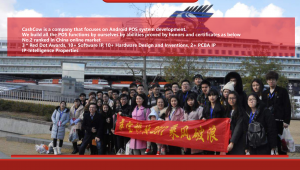 Factory