Coffee Shop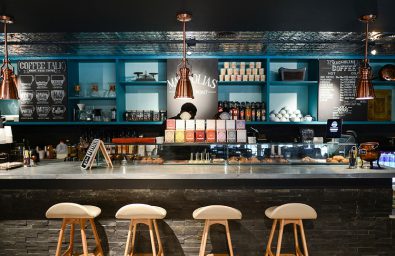 Coffee Shop Target customer: coffee, drinks, bubble tea and so on.
Characteristic function characteristic management for Coffee shop, independent setting of label printing, buy one get one free, second half price and special price
Value point 1: By meeting the individual needs of customers, Cashcow Item.
Modifier function support add topping, mark the taste and remove something they don't like.
Value point 2: Help to promote sales through sale variety combo meal.
Value point 3: Improve shop's efficiency and void the mistake during rush time by Mobile Scan Order.
In all, cashcow coffee shop pos software help the owner operate the shop more and more better.
Coffee Shop: The Garden Cafe
The Garden Cafe is a coffee and simple meals shop located near an office building in Kuala Lumpur, Malaysia. The shops get busy at lunchtime and dinner time, and many customers will add some drinks or meal at same time. This problems makes the shop messy and customer can't get the good experience.
Why Choose Cashcow?
Scan order and online help hop running more better, the boss print the QR code and put it on table, when customer need add something then can through scan the QR code to place order by use their mobile phone. Online order let some customer can place order at their office. Cashcow not only help The Garden Cafe get more orders, but more importantly it helped the shop deal with these orders more easily.