2020-10-19
Posted by:

admin

Category:

articles
What is Cashcow software?
Cashow is a independently brand which contains  Cashcow pos machine and Cashcow software.
Cashcow pos machines are all desgined independently, have elegant design and powerful functions, running based android system.
Click here to know Cashcow pos machine detail
Cashcow software is also developped independently, based on android system, provide solutions for major industires, like supermarket, restaurant, retail shop, fruit shop and clothing, etc.
If you buy Cashcow pos machine, the Cashcow software will be provided free of charge.
Why Cashcow software is so different?
1. Focuses on small businesses
Cashcow has a unique customer positioning. Different from traditional windows software, which mainly serving large restaurants and shopping malls, Cashcow focuses on solving problems of small merchants.
The characteristics of small merchants are: business process is not very complicated, the staff has to handle much tasks, and unable to pay expensive fees.
Aiming at the pain points of small merchants, Cashcow software are sufficient to meet small business requirements, but not overly complicated . The software operation is very simple, it only takes 5 minutes to set up, then operator can get started.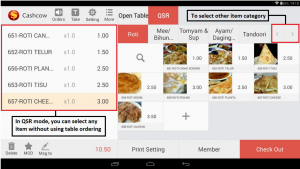 2. Catch mobile trend
With the trend of smart phones, basically every consumer has his/her own mobile phone and connected to the Internet.
Consumers' consumption behaviors are also increasingly done through mobile phones. Cashcow provides several eye-catching functions, like mobile online orders, mobile payment, mobile take away orders.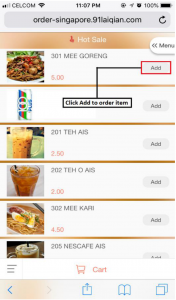 Why choose Cashcow software?
1.  Comprehensive functions which covers many industries
The Cashcow software can meet the needs of merchants,like restaurant, retail, supermarket, clothing and many other industries. Supported industries are as below: 
Food and beverage, including fast food, dinner, coffee, baking, tea restaurant, milk tea, beverage, etc.  Click here to learn more
Retail supermarket, including convenience stores, small supermarkets, boutique retail, fresh fruit.  Click here to learn more
Clothing: clothing store, salon shop.   Click here to learn more
2. Powerful mobile tools for convenience
With the trend of smart phones, basically every consumer has his own mobile phone and connected to the Internet.
Consumers' consumption behaviors are also increasingly done through mobile phones.
Cashcow provides the following several very eye-catching functions for the mobile Internet era.
Mobile cloud report for manager
The owner can check the sales report on real time at anywhere and any time. Real-time analytics and sales reporting tell you which items are selling, when your busiest times are, and more. 
Order food by mobile  for consumers in the store
After the consumer arrives at the store, he can scan the QR code to place an order and pay through their mobile phone, then just wait for the food to be served. The operation greatly reduces the peak waiting time of the store and retains the passenger flow. It's also saves the labor cost of the shop.
Order by mobile with delivery or pick up for consumers at office/home
 Consumers place an order over the phone in the office/home, or place an order on the mobile web page. After the order is placed, the restaurant completes the production and delivers it to the consumer, or the consumer comes to stores to pick it up. Online Order unlimits the time and zone through by using the QRcode order for help the owner to get more sales.
3. Cashcow pos software is free in lifetime
First of all, Cashcow is developed based on the android system. Android is an open source system, there is no need to pay for the system license fee for android. On the contrary, the traditional windows-based pos machine must pay for windows license. 
Secondly, Cashcow's sales volume is very large, and the product development and design costs have been shared. Cashcow series products have been sold more than 300,000 units in China. It is No.2 ranked pos machine in China online market. 
Therefore, Cashow software is free of charge, and can be used for lifetime. Cashcow pos machine charges reasonable material costs and manufacturing costs.
Generally speaking, cashcow's all in one pos solution's whole pagckage price is lower than the one-year software license fee for the pos system of the same level.
4. Easy to operate, no need for on-site training , you can start using it in 5 minutes
Firstly, Cashcow software is developed based on the android system, which means that various peripherals, including serial ports, USB devices, such as printers, USB, no need to install drivers, plug it in and use it directly.
Secondly, Cashcow has been designed for small businesses from the very beginning. For small merchants, too complicated functions and preparations will discourage them. Cashcow software use the extremely simplified and humanized operation design, similar to Apple,  greatly simplifies the data entry, cashier operation and peripheral connection.
There is no need for special training of Cashcow software. The merchant can start using cashcow pos machine in 5 minutes after getting it.
5. After-sales service costs is very low due to high quality
Traditionally, we need to spend much time to help customer solve hardware and software issues . It will have a lot of costs. Cashcow decided to produce high-quality products to save the quality cost. 
High-quality products come from strict control of product design and manufacturing process.
Cashcow branch has built its own R&D team and factory, which designs, manufactures, and provides after-sales services by ourselves. Through years of upgrading and after-sales experience accumulation, the existing products have been quite stable. Now our hardware has the lowest quality after-sales rate among Chinese counterparts, and has been unanimously recognized and praised by Chinese customers.
Secondly, cashcow has strict production process control and quality inspection process control, to ensure that every finished produt is fully qualified.
6. Quick response for localization requirements
Cashcow understands that merchants in each country have their own localized needs, such as units of measurement, currency, language, printing, payment, taxes, independent brands, etc.
Cash cow's products have been sold to more than 100 countries and regions around the world, covering the widest possible localization needs. But if you still have your own localization needs, you can give us feedback in time, we will respond quickly, evaluate and provide necessary R&D support to meet customer needs.
If you are interested in cashcow products, please send your contact information or email to us, or leave contacts in the comments, we will contact you later.
Click here to know Cashcow pos machine detail
Contact Us
Cashcow Contact Info
Mobile/Whatsapp/: +86 15655317879
Skype: Cashcow Wendy
Wechat: 1565531787